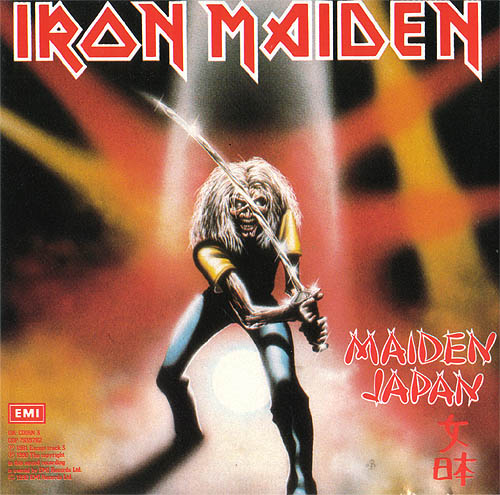 Maiden Japan was released on the 14th of September 1981 and saw the last appearance of the bands 3rd vocalist Paul Di'anno who was sacked because of his regular alcohol fuelled fits of violence. It was a four track live ep and was released because the band wanted to release a live album, but the record label said no, after negotiation between the band and the record label (EMI) a compromise was made, and although the band was not able to release a full live album they were able to release a slightly longer than usual ep. Maiden Japan was the only official live recordings available to buy featuring Paul Di'anno until 2001's Eddie's Archive which contained some tracks, with Di'anno.
Album Details
Title
Maiden Japan
Released
1981
Format
12"
Line up

Paul Di'anno - Vocals
Steve Harris - Bass
Dave Murray - Guitar
Adrian Smith - Guitar
Clive Burr - Drums

Tracklist

1. Running Free
2. Remember Tomorrow
3. Killers
4. Innocent Exile
Note: The album was re-released as part of the First Ten Years Singles Collection box set, on 12" and CD but apart from that it has never been re-released on its own or remastered, as it is not considered as an actual album.